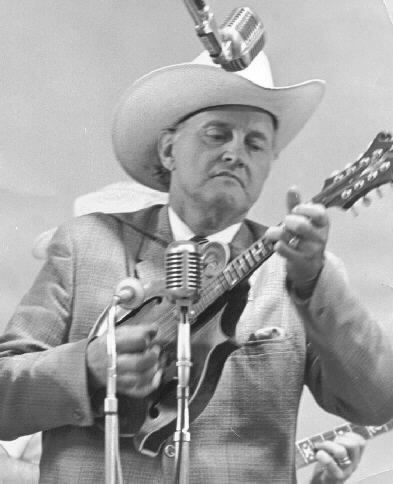 BILL MONROE
The Father Of Bluegrass

William Smith Monroe was born September 13, 1911 and grew up on his family's 650 acre farm just outside Rosine, Kentucky, where his father, James "Buck" Monroe, farmed, operated a sawmill and mined coal; his mother, Malissa Vandiver Monroe, raised poultry and tended to her husband and eight children. Of the six Monroe boys, Bill was the youngest, eight years the junior of his nearest sibling, Charlie, and between the sizable age gap between him and the rest of his brothers and sisters, and the fact that his extremely poor eyesight prevented him from playing most sports (especially his favorite, baseball), Bill spent a considerable amount of time on his own. Quite early on, he became fascinated by the music which abounded in the Monroe home - the old-time ballads sung by his accordion-playing mother, and the wonderful fiddle tunes he heard whenever Malissa's brother Pendleton would come by for a visit.

Bill loved the sound of the fiddle and longed to learn how to play it, but that was his brother Birch's instrument. Guitar was his next choice, but Charlie was the guitarist in the family. That left Bill with the only other stringed instrument in the house - a mandolin. If he learned it, he figured, at least he could play along Charlie and Birch. And so, at age ten, he began to teach himself, picking out melodies he heard on the fiddle and learning to keep a rhythm. As he got better, Charlie let him play his guitar, and it was on that guitar that Bill made his first public appearances when he was barely a teenager, accompanying Uncle Pen at square dances around the country and sharing in the sheer joy that his uncle got out of entertaining.


From his beloved Uncle Pen, Bill Monroe learned a great deal about melody and timing, and the shape-note singing school classes he attended at Rosine's Baptist and Methodist churches each summer taught him much about vocal harmony and group singing. From a very different source came a third strong influence on Bill's musical education: From 1923 to 1925, a middle-aged black man named Arnold Schultz lived in the area while working for a local coal company, and he'd usually draw quite a crowd whenever he played his guitar. In Arnold Schultz's country blues, Bill found yet one more way to approach music - to allow one's emotions to spill freely into one's playing and singing. Schultz regaled Bill with stories of music contests he'd won throughout Kentucky, and one Saturday night when he was asked to play fiddle for a dance, he took Bill along to play guitar behind him. At daybreak they were still going strong.

Buck Monroe died when Bill was sixteen (his mother had passed away several years before), and after spending a few years living with Uncle Pen, Bill left Kentucky in 1929 to join brothers Birch and Charlie in Indiana, where they'd gotten jobs at an oil refinery. For the next five years, Bill cleaned and stacked barrels for the Sinclair Oil Company and lived with his brothers in East Chicago, Indiana. On weekends, the three supplemented their meager incomes by playing house parties and community dances. The trio - Birch on fiddle, Charlie on guitar and Bill on mandolin - became sufficiently well-known that by 1932, they were working as exhibition square dancers for short term road shows staged by Chicago's WLS Barn Dance program. Two years later, Bill quit the oil refinery and became a full-time musician when the Monroe Brothers (as they are now billing themselves) received an offer to perform six shows a week on a Gary, Indiana radio station for the Texas Crystals Company, manufacturers of a cathartic. After a few months, Texas Crystals asked them to move to a Shenandoah, Iowa station for another three month run, and when Birch decided he didn't want to travel so much and headed home, the Monroe Brothers became a duo.

By the time Bill and Charlie made their first Bluebird recordings for RCA Records in February, 1936 (they were based at this point in South Carolina, and were performing daily on radio stations in Greenville and Charlotte, North Carolina, driving from one to the other and back each day), they were an accomplished performing team with not only a wide-ranging repertoire of ballad, breakdowns and spirituals, but also an interesting and exciting personal chemistry. Affable, gregarious Charlie, the lead singer with the ever-present grin, and shy reserved Bill, the harmony singer with the always serious look, made music that bristled with energy and verve, and throughout the mid-30s the Monroe Brothers were among the most popular of the many talented brother teams that dotted the Southeastern musical map. They were respected and, in no time, emulated - although even the most proficient instrumentalists of the day were hard pressed to figure out, let alone duplicate, most of Bill's dazzlingly intricate fills and solos.

In October of 1939, Bill Monroe and his Blue Grass Boys auditioned for David Stone and George Hay, the "Solemn Old Judge" who emceed, and had named, the Grand Ole Opry. They performed a few numbers and were immediately hired. The following week Bill made his Opry debut, singing lead (something he'd never once done while working with Charlie) on a souped-up version of Jimmie Rodgers' "Mule Skinner Blues. "The performance just about brought the house down, and Judge Hay, who liked his country music "close to the ground," told Bill, "If you ever leave the Opry, it'll be because you fired yourself." (After fifty-one years, that still hasn't happened; Bill Monroe remains a Grand Ole Opry fixture.)

The Blue Grass Boys sounded different because they were different. Playing virtually all their material, even their slowest numbers, at much faster tempos than other contemporary groups, and in keys that were heretofore viewed as unthinkable for most groups that included a fiddle, Bill Monroe and His Blue Grass Boys began to revolutionize the way country string band music was played. They even looked different: Bill wanted to be taken seriously, and he dressed his band accordingly - in white shirts, neckties, jodhpurs, riding boots and narrow-brimmed Stetsons. When they journeyed through even the roughest towns, they were never bothered; "I suppose they thought we were the law," Bill dryly told Jim Rooney (author of Bossmen: Bill Monroe and Muddy Waters) in 1971.

On October 7, 1940, after building a substantial audience through his Opry appearances and the live performances arranged by the in-house booking agency run by WSM (the station that broadcast the Opry), Bill and his group made their debut RCA Bluebird recordings in Atlanta. Though the band's mandolin-fiddle-guitar-bass instrumentation was still the same, the line-up had changed dramatically: Cherokee, North Carolina's Clyde Moody, who at twenty-five was already a veteran of a number of groups, including the Happy-Go-Lucky Boys (with J. Hugh Hall) and Wade Mainer's Sons of the Mountaineers, was now the group's rich-voiced singer and guitarist; Tommy Magness, who'd played with one of Bill's chief string band competitors, Roy Hall and His Blue Ridge Entertainers, had replaced Art Wooten; and Bill "Cousin Wilbur" Westbrook, a medicine show and carnival comedian from Gibson County, Tennessee, was the new bass player. In a session that lasted just two and a quarter hours, Bill and his band recorded eight songs that reflected their leader's panoramic vision of what country string band music should be - a vision that deeply revered past traditions even as it hurtled eagerly in to the uncharted territories of the future.

By the early 1950s, as the "bluegrass revolution" he'd begun took hold, Bill settled in to his rightful role as the patriarch of modern country string band music. Flatt and Scruggs were only the first of many whose careers were aided (and in some cases made) by their association with Bill: Don Reno, Mac Wiseman, Jimmy Martin, Kenny Baker, Vassar Clements and Sonny Osborne are just some of the many country stars whose talents were enriched and nurtured under Bill's tutelage and guidance. In 1970 he was elected to the Country Music Hall of Fame, and his dizzingly full touring schedule has barely changed over the last two decades. As he continues to delight and inspire generation after generation of country music listeners and performers, the words Ralph Rinzler used to describe him in 1975 still seem wholly appropriate: "Pioneer, creator and teacher" - that, indeed, is Bill Monroe.